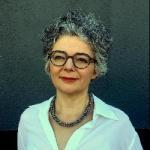 Clarisse Bardiot
Contact
Contact
clarisse.bardiot [at] univ-rennes2.fr
Responsibilities
Professor in performing arts studies (laboratoire Arts : pratiques et poétiques)
Responsible for international relations for the Performing Arts degree
Research fellow at the CNRS (Thalim laboratory)
CV
A historian of contemporary theatre, specializing in digital humanities and digital performances, Clarisse Bardiot is a full professor at Université Rennes 2 and a research fellow at the CNRS (Thalim laboratory). After a Ph.D. on digital performances (Les Théâtre virtuels, Sorbonne Nouvelle/CNRS, 2005) under the direction of Béatrice Picon-Vallin, she obtained a researcher-in-residence grant from the Daniel Langlois Foundation in Montreal in 2005-2006 for research on 9 Evenings, Theatre & Engineering and then contributed to the international DOCAM project on the documentation and conservation of media arts. From 2006 to 2010, she coordinated two European interreg projects (CECN2 and Transdigital), led numerous training projects and artists in residence programs on digital performances, and created the magazine Patch, of which she was editor-in-chief. In 2011, she founded Subjectile, a publishing house dedicated to contemporary creation, whose books are regularly awarded prizes. In 2016, she was selected to participate in the "culture analytics" long program at the Institute for Pure & and Applied Mathematics at UCLA. In 2016 and 2017, invited by Roger Malina, she was a research fellow at the ArtSciLab Experimental Publishing Initiative at UT Dallas. From 2018 until 2021, she joined the scientific management team of the Maison Européenne des Sciences de l'Homme et de la Société (MESHS) to develop the digital humanities program. In 2018, she was on temporary assignment to the CNRS, renewed in 2019. In 2019, she defended her "habilitation to direct research" with Bruno Bachimont. The manuscript was entitled "Mémoire de l'éphémère : les traces numériques des arts de la scène". It has been published in French and in English by ISTE and Wiley in 2021 (Arts de la scène et humanités numériques / Performing Arts and Digital humanites). Her research focuses on digital humanities, the history and aesthetics of digital performance, the relationship between art, science and technology, the preservation of digital works, and experimental publishing.
Curriculum vitae available here : http://www.clarissebardiot.info/bio/
Research
My scientific background is the epistemology of the performing arts and digital technologies. Over the years, the focus has shifted from history and aesthetics (digital performances) to the question of the memory and historiography of theatre (theatre analytics). The evolution of the performing arts/digital tension can be summed up in three questions: What does digital offer to stage creation? What is the impact of digital technology on the documentation of the performing arts? What does digital tell us about theatre? These questions have emerged one after the other. One chapter does not close the other. The threads continue to be drawn simultaneously, enriching each other. My research fields include digital humanities, history and aesthetics of performing arts, art/science/technology relations, documentation, and preservation of digital heritage and new forms of publishing.
Research projects presentation: http://www.clarissebardiot.info/
Publications
Article dans une revue
Communication dans un congrès
Chapitre d'ouvrage
Ouvrages
Poster de conférence
Rapport